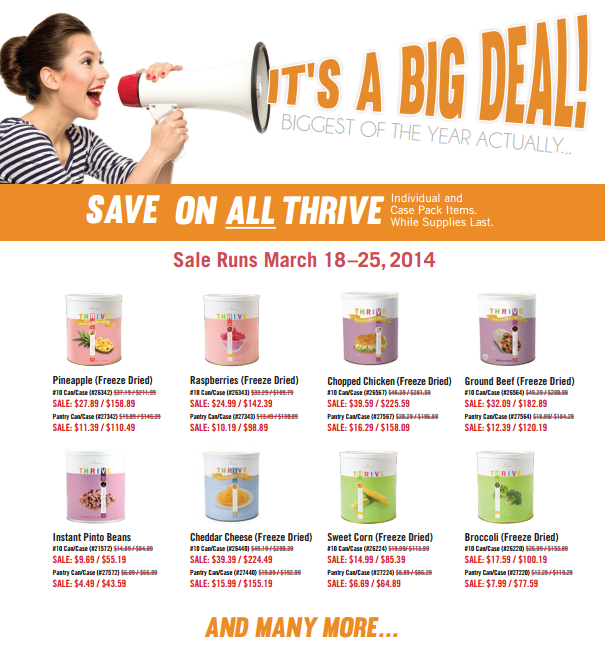 In the March Madness Sale you can save from 5% to 50% off ALL THRIVE foods from March 18–25when you shop on our consultant website! Pantry cans, #10 cans, 6-pack cases, and pantry can 10-packs will all be on sale—click the image above to visit our 
one-click shopping page
 and see the sale pricing.   
You can fill your shopping cart now, but sale pricing won't be reflected until the sale begins.  The sale runs from March 18 through March 25th or while supplies last. 
 Return to your shopping cart any time during the sale and checkout with one click.
SALE HIGHLIGHTS
The best pricing is available if you purchase in cases (six #10 cans per case).  We recommend buying cases if at all possible, even if it means going in on an order with a few friends or family members since cases will give you the deepest discounts.  Every single item is on sale but here are a few of the best discounts by percent off savings.
–-50% off–
Cornmeal (save $27.40 per case)
–45% off–
Instant Red Beans (save $40.00 per case)
–35% off–
Ground Beef (save $97.20 per case)
Egg White Powder (save $61.60 per case)
Instant Pinto beans  (save $29.70 per case)
Beef TVP (save $28.60 per case)
Sloppy Joe TVP (save $41.70 per case)
Taco TVP (save $35.50 per case)
Ham TVP (save $29.70 per case)
Chicken TVP (save $25.80 per case)
Broccoli (save $53.70 per case)
–25% off–
Turkey Dices (save $83.90 per case)
Sweet Corn (save $28.60 per case)
Zucchini (save $27.50 per case)
Pineapple (save $53.10 per case)
Raspberries (save $47.40 per case)
Carrot Dices (save $29.70 per case)
If you are planning on making a large purchase during this incredible sale, we recommend you consider the consultant opportunity. As a consultant you earn commissions on your own purchases. Learn more about the opportunity on our Join Our Team page. We would love to have you as a member of our team.